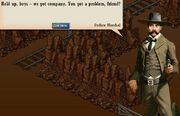 The Outlaw Marshal is a moustached enemy.
"I was tired of being the best looking in the west anyway."
"You ain't got it in ya"
"Thought I heard you were fast"
"That's a wound!"
"You picked the wrong day, friend"
"You're pushing your luck, friend"
"Good shot kid"
"I guess the better man won"