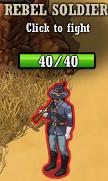 Rebel Soldiers have 40 hit points. They work for the Outlaw Marshal.
"Want some more?
"Coward!"
"How 'bout some o' dis?"
"Losing your touch?"
"What the..."
"Aw dag nammit! Tarnation!"
"You made me bleed in my britches, spew in my boots! Tell ma... I love 'er"
"Tell'm I said something good."
"Aw right, you're messin' with the wrong hombre. Ready to bring it on?"